EVENTS, LECTURES, AND BOOK SIGNINGS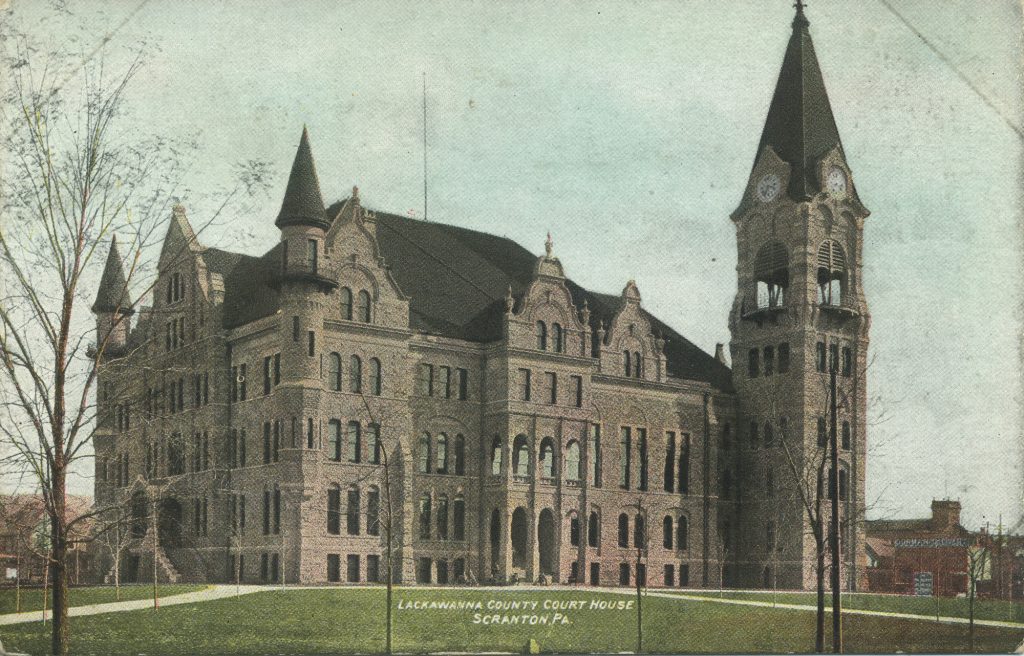 Upcoming Events
Fall 2022 • Boston & Cambridge Watch for announcements of upcoming events
Past Events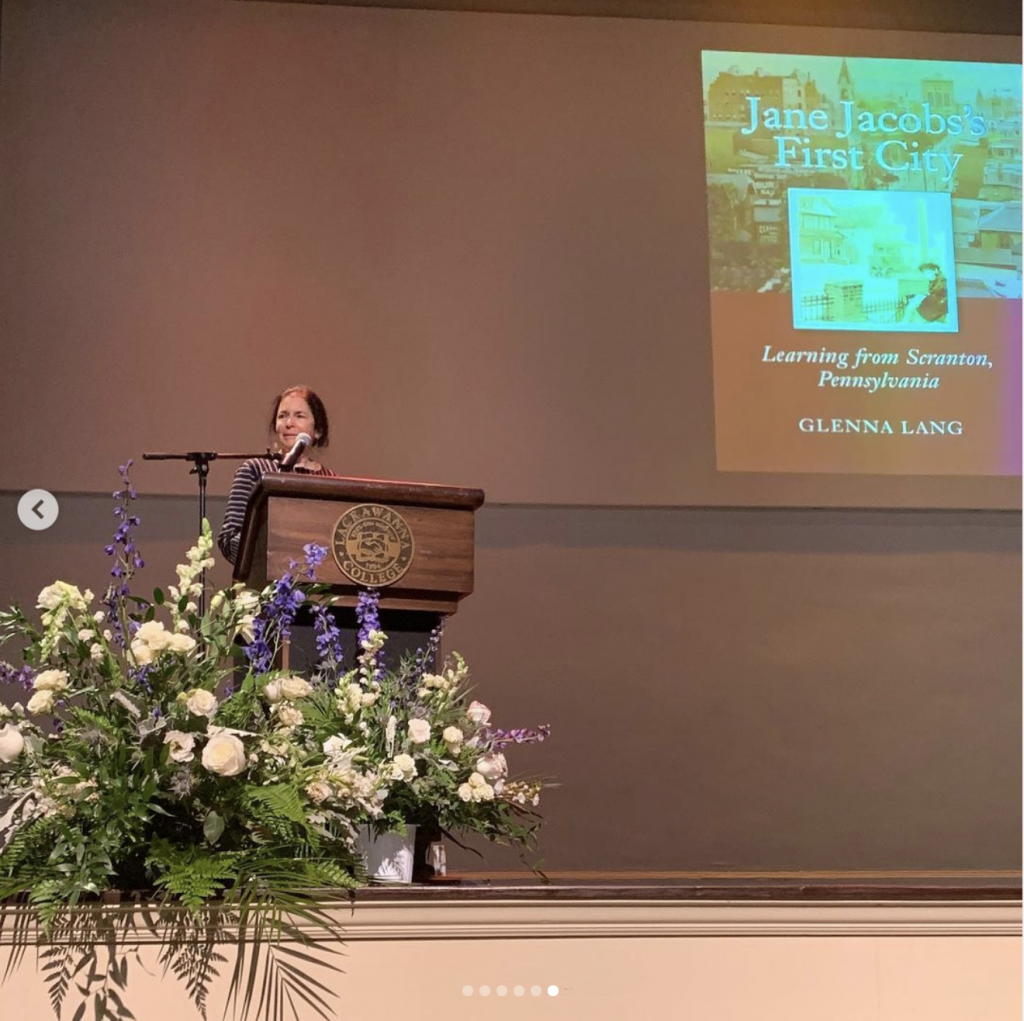 A multi-event Book Launch and Observe Scranton: Jane Jacobs's First City Festival, May 4–8, 2021 organized by the Center for the Living City, Scranton Public Library, AIA NEPA, and Lackawanna College, brought new life to Jane Jacobs's ideas and the history of Scranton. Coinciding with what would have been Jane's 105th birthday, the city paid tribute to Jane Jacobs at City Hall. Scranton Mayor Paige Cognetti read the inaugural Jane Jacobs Day proclamation and presided at the Jane Jacobs flag raising. Author Glenna Lang gave a slide presentation on "Jane Jacobs's Scranton and Its Reverberations" at the theater at Lackawanna College, formerly Central High School, which Jane Butzner (Jacobs) attended. Mayor Paige Cognetti introduced the presentation.
Jane Jacobs Walk: Explore Historic Forest Hill Cemetery and Find Who in Jane Jacobs's First City Is Buried There. The cemetery's caretaker and archivist, Norma Reese, led a fascinating tour of Scranton's first landscaped cemetery, founded in 1870. Within the beautiful grounds overlooking the city, participants were introduced to some of the 18,000 people laid to rest. African Americans and Caucasians, coal barons and miners, and immigrants from the world over have always been buried side by side here. Glenna Lang accompanied the walk.
Jane Jacobs Walk: The Architecture and History of Lackawanna Avenue in Central City. Architect and local historian Richard Leonori led a walk along Scranton's main downtown street, laid out as part of the original plan for the city in the 1850s. He discussed the origins of its beautiful historic buildings and the efforts to preserve and restore them. Glenna Lang accompanied him.
Jane Jacobs Walk: Walking in the Footsteps of Jane Butzner (Jacobs). Longtime architect and Dunmorean John Cowder retraced Jane's routes to her neighborhood school, the potato chip factory in the alley, and other mom-and-pop stores she and her family and friends frequented. Participants discovered commercial sites and homes associated with Jane still in existence today, and learned about those that did not survive the ravages of time. Glenna Lang accompanied the walk.
Scranton community members read passages from Jane Jacobs's First City. Maria MacDonald, Center for the Living City; Madison Hunter, Girl Scouts of Scranton; Cathy Ann Strader Hardaway, Director of Domestic Relations, Lackawanna County, and Commissioner of the Martin Luther King Commission; Bill Walczak, member of Scranton 1930s huckster family; Ginger Goodrich, Scranton Chamber of Commerce.
American Institute of Architects, Northeastern Pennsylvania chapter [AIA NEPA] Design Awards Dinner, Nov. 19, 2021. Illustrated presentation by Glenna Lang on Jane Jacobs's First City. Architect John Cowder introduced her talk.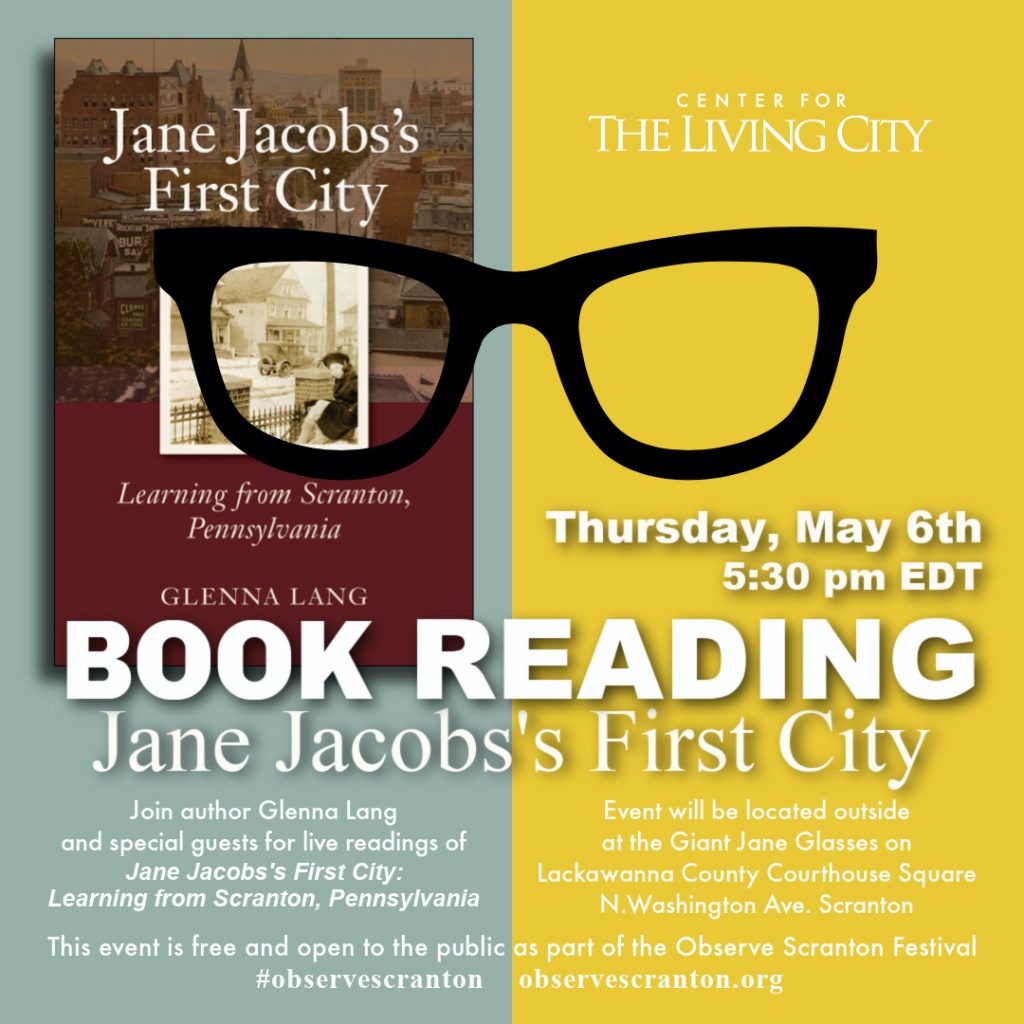 New York City Events
Rizzoli Bookstore, NYC, illustrated presentation followed by author's conversation with Andrew Berman, Executive Director of Village Preservation (now Village Preservation), May 13, 2021. Rizzoli event aired on CSPAN-3, American History TV, June 26, 2021
Tenement House Museum, NYC, Dec. 7, 2021, 7 p.m., author interviewed by Kathryn Lloyd. "Through historic newspapers, directories, records and interviews with contemporary Scranton residents, Lang reconstructs the origins of one of New York City's most ardent advocates through her first city, Scranton, Pennsylvania."
Greenwich Village Society for Historic Preservation (now Village Preservation) March 3, 2022, author's slide talk and conversation with Leeanne G-Bowley. "This book talk and discussion with Glenna Lang explores Jacobs's journey from Scranton to the Village and beyond!"